Some Bunny is One, Awesome 1st Birthday Party Theme
Introduction
A first birthday is a huge milestone for both baby and parent. It's a celebration of the new life you've brought into the world, a gathering of the people you love most, and a milestone that comes with cake! If you're looking to throw your child an unforgettable bash without breaking the bank, consider celebrating their first year with an adorable Some Bunny Is One first birthday party.
party decor photos courtesy of Catch My Party
Putting together a fun 1st birthday party does not have to break the bank.
Putting together a fun 1st birthday party does not have to break the bank. Here are some tips for making your child's first birthday party special without breaking the bank:
Use what you have. If you have some old party decorations or leftover food from other parties, use them!
Use your child's favorite colors and toys. For example, if your child loves blue and yellow, then incorporate those colors into the decorations and games at the party. You can get creative with this idea too; for example, make yellow and blue balloons or use paper plates that match those colors instead of just using plain white ones. This will make it easier on everyone involved (especially you!) because they already know what kind of theme she liked most as well as how much she liked these things!
Make sure there is plenty of food available so everyone stays satisfied throughout
Balloons
Balloons are a great way to add color to any party. You can use them to create balloon arches, balloon bouquets and garlands for your birthday girl's first birthday celebration!
Balloon arches are a simple way to create a focal point at the party. They're also easy to put together: just tie balloons along a piece of ribbon or string that's 20 feet long. Tie one end of the string into another piece of string that is 10 feet long, then tie on more balloons until you've reached the desired length (you want an arch that's 4 feet wide). Then simply hang up your arch!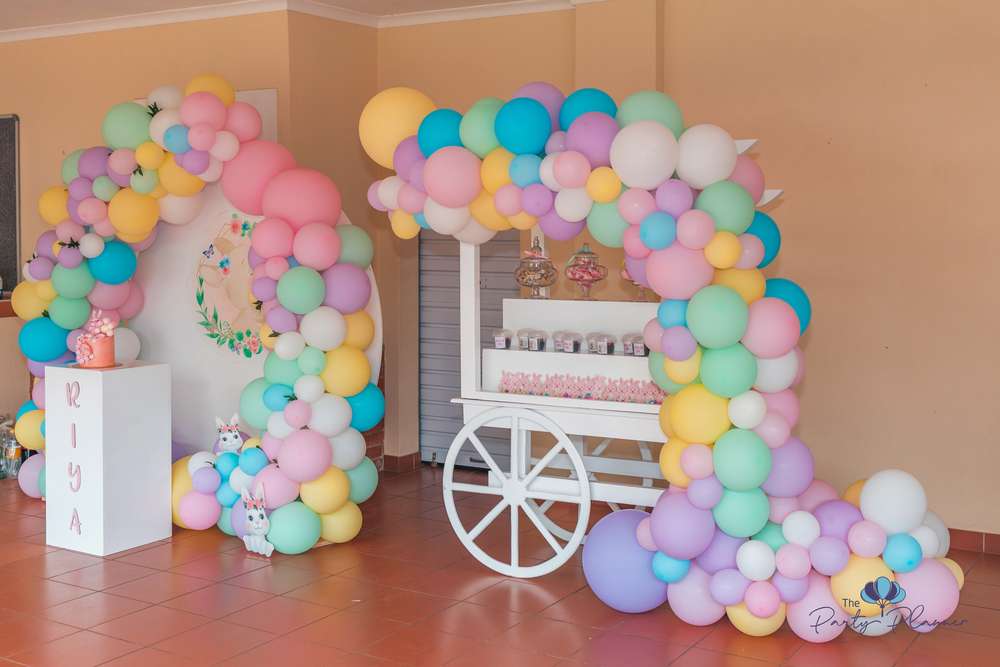 Confetti
Confetti is a fun way to decorate your party. It's inexpensive and available at craft stores in a variety of colors and shapes. To use confetti on the cake, fill a pastry bag with icing and pipe it onto the top of the cake in swirls or other designs. You can also sprinkle confetti on top of cupcakes as they come out of the oven, but be sure to let them cool completely before adding additional decorations like sprinkles or chocolate chips.
To decorate your table, place piles of colorful paper napkins throughout the space so guests have something to wipe their hands on when they're done eating. You could also scatter small bowls filled with different colored candies—like M&M's® candies—around the table for guests to enjoy after dinner has been served.
Banners
Banners are a great way to decorate for your party! They can be made from paper or cloth and hung from the ceiling or wall, used to decorate food, or even used as decorations for a cake. You can use glitter glue and paint to create banners that reflect your child's favorite colors and theme. For example, if your child likes bunnies then you could paint "Happy Birthday" on one side of the banner in pink glittery letters and "Bunnies Rule" on the other side in blue glittery letters.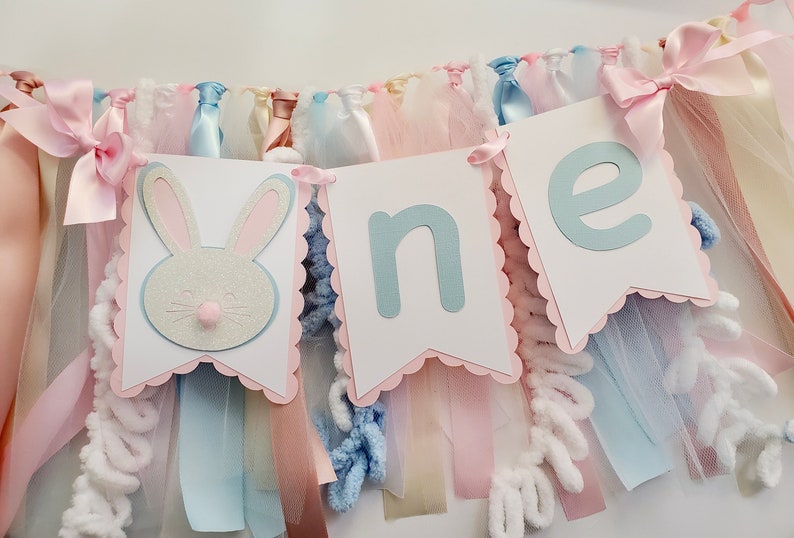 this banner can be purchased directly from The Pink Papermill
Cake toppers
Cake toppers are a great way to add a personal touch to your cake. Cake toppers can be made from paper, plastic, or even clay. Some of them look like little statues of the person you're celebrating and some look like cartoon characters. These items are not expensive either; they can be found at craft stores for under $10 each or if you purchase a cake arrange for the cake topper with the bakery.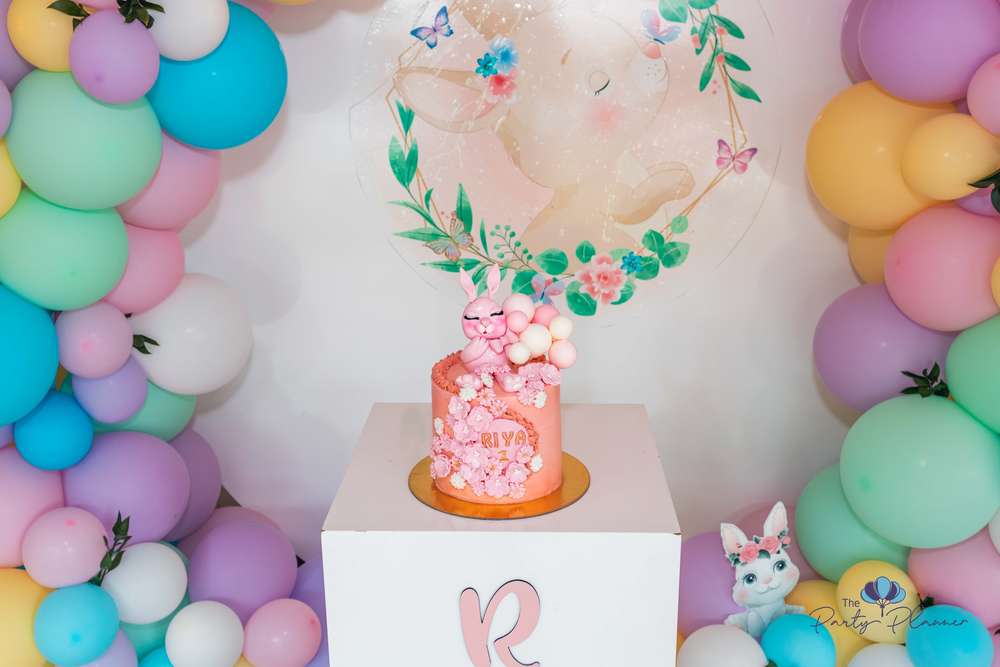 Food and drink.
Food and drink are a must for any party. You want your guests to walk away from the celebration feeling full, happy, and satisfied. Since you're throwing a 1st birthday party for a toddler, you should keep the food age appropriate. This means that no one gets drinks with alcohol (unless you feel comfortable serving it). The same goes for any other potentially hazardous foods like peanut butter crackers or cheese cubes.
Food should be nutritious too! That doesn't mean filling yourself up on carrots alone – there are plenty of healthy options that kids love: applesauce cups (with no added sugar), bananas cut up into tiny pieces (which can also double as a fun stackable game!), and whole wheat bread with nut butter or jelly will satisfy even the pickiest eaters at your party table!
As far as snacks go - they needn't be complicated! If you want something sweet then consider making fruit kabobs using pineapple chunks covered in fresh strawberries dipped in melted dark chocolate (or just buy some pre-made treats like these!). When it comes to salty foods try nuts instead of chips - they're healthier but still hit those flavor needs without being overwhelming due to their smaller size. Plus they're super easy cleanup since there's nothing greasy to deal with! And finally if there's any type of dip available consider pairing it up with raw veggies such as celery sticks/carrots/celery hearts(cut into flower shapes). Olives make great finger foods too if sliced into bite-sized pieces ahead of time so everyone can grab them easily."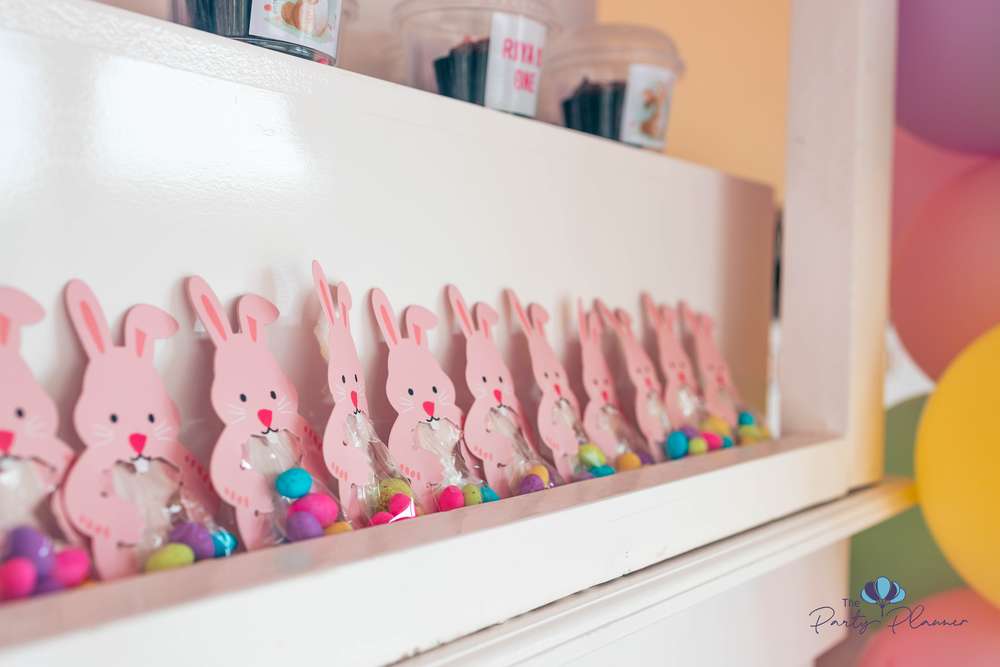 Select a 1st birthday Outfit to match your Some Bunny is One theme.
The 1st Birthday outfit is important to the overall theme of the party. Take time in selecting the outfit to match the theme. This beautiful Some Bunny is 1 birthday tutu outfit is perfect for the Some Bunny is One theme of this party.
This Some Bunny is One outfit can be purchased at directly from Little Keiki Bou-Tiki
Conclusion
We hope you've enjoyed this brief overview of the "Some Bunny is One" theme. It's a simple, fun concept that can be applied to any number of first birthday parties! And now that you have some ideas for decorations, invitations and cake, your party planning should be off to a great start!