Winter Onederland 1st Birthday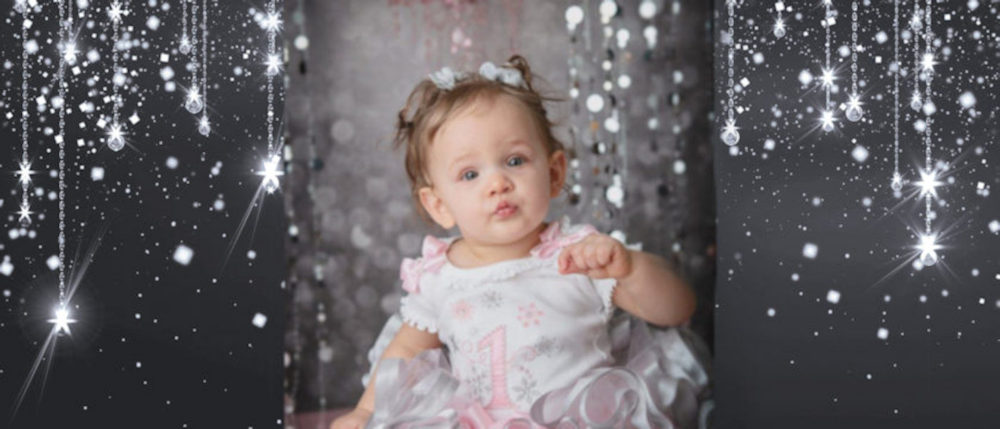 Create lasting memories at your child's first birthday party with a Winter Onederland theme! Step into a magical winter wonderland with snowy decorations and fun activities that will delight both kids and adults. This enchanting celebration is sure to be a hit, transporting you and your guests to a world of wonder. Get ready to celebrate in style and create memories that will be cherished for a lifetime at your child's Winter Onederland 1st birthday party.
Decorate with a winter wonderland theme.
Transform your child's first birthday party into a Winter Onederland with a magical winter wonderland theme. Emulate the beauty of snow and ice with white and silver decorations. Hang snowflake garlands and string lights to create a whimsical atmosphere. Enhance the theme with winter-themed props like snowmen, penguins, and polar bears. Add touches of silver and sparkle to further enhance the winter wonderland feel. With the perfect decorations, your child's Winter Onederland party will be a truly enchanting celebration.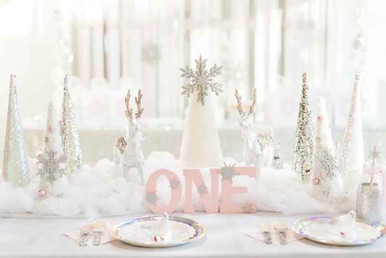 Photos courtesy of https://karaspartyideas.com/2019/02/winter-onederland-first-birthday.html
Hot cocoa anyone? Consider a hot cocoa bar.
Add a touch of warmth and coziness to your Winter Onederland party with a delightful hot cocoa bar. Create a festive table filled with a variety of hot cocoa flavors, fluffy marshmallows, creamy whipped cream, and an assortment of toppings such as sprinkles, crushed candy canes, and chocolate shavings. Make sure to provide mugs and spoons for your guests to serve themselves. For an extra special touch, consider adding flavored syrups or mini marshmallow stirrers. A hot cocoa bar is not only a delicious treat but also adds a cozy and inviting atmosphere to your winter-themed celebration.
Incorporate a festive Winter Onederland Birthday Outfit with snowflakes, into you party theme
Make your baby's first birthday extra special by adding a Winter Onederland themed outfit. Incorporate festive elements like snowflakes or snowmen to add a touch of whimsy and charm. Consider a tutu dress or onesie with snowflake patterns to set the mood for a winter wonderland celebration. Your baby's outfit will be adorable and perfect for capturing those precious birthday memories
.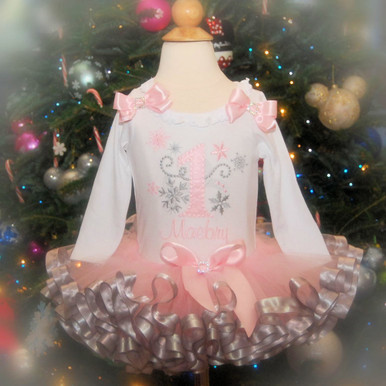 Serve up some winter-themed treats and snacks.
To enhance the winter wonderland theme of your birthday party, there are various treats and snacks you can serve. Get creative by making snowflake-shaped sugar cookies and decorating them with silver and white icing. Set up a DIY s'mores station with graham crackers, marshmallows, and chocolate bars, allowing guests to create their own delicious treats. Another delightful option is to serve mini snowball cupcakes, topped with powdered sugar or coconut to resemble snowballs. These delectable treats will not only satisfy your guests' cravings but also contribute to the enchanting winter ambiance of your celebration. Remember a first birthday party is thrown for adults so make the refreshments to satisfy adult tastes.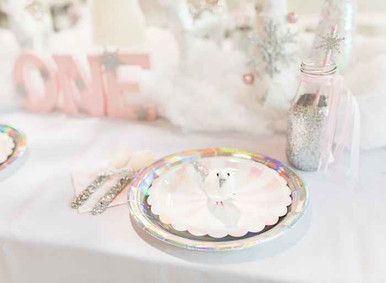 A photo booth with winter props can add some fun..
To add a touch of fun and creativity to your Winter Onederland birthday party, consider setting up a photo booth. Choose a backdrop that matches the winter theme, such as a snowy forest or a sparkling winter wonderland. Gather a variety of winter-themed props for guests to use in their photos, such as fake snow, snowflake-shaped glasses, winter hats, scarves, and mittens. Encourage guests to let their imaginations run wild and have fun with the props. Provide a camera or smartphone tripod so that guests can take their own photos and capture lasting memories of your magical celebration. Make the guest of honor available for photos with relatives but keep in mind your baby's comfort and happiness. Limit the pictures and give your baby time to relax and regroup between poses!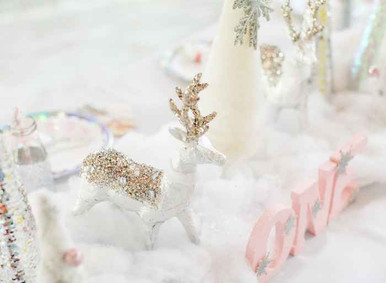 Plan fun activities and games for all of your guests
To keep the adult guests entertained at the Winter Onederland party, you can plan various activities and games. One idea is to set up a craft station where they can decorate snowflakes or make winter-themed ornaments. Another option is to organize a snowball toss game using soft, indoor snowballs or have a snowman building contest using white playdough. Additionally, you can set up a winter-themed scavenger hunt where they can search for hidden snowflakes or winter-themed objects. These activities will not only keep them engaged but also contribute to the magical atmosphere of the celebration. Don't forget to include the younger guests as well, allowing them to work alongside their accompanying adults for added fun. It's also important to have a designated area for babies to safely play.